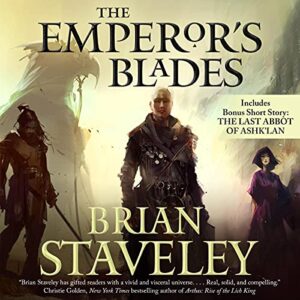 The Emperor's Blades: Chronicle of the Unhewn Throne, Book 1 by Brian Staveley (Unabridged) Audiobook
Narrated by: Simon Vance
Running Time: 18 hrs and 46 mins
The Emperor's Blades is a fantasy novel hand-constructed for those who are in love with epic fantasy. I began listening to the book with no expectations, but even if I was prepared for this book's greatness, I would have been truly blown away by how much I enjoyed it. Displaced royalty, murder, betrayal, and interwoven destinies abound in this epic addition to the high fantasy cannon, one which introduces us to a world and characters beyond imagination.
The World of 
Annur
Being the first book in the series, you get to be in on the ground floor when it comes to world building and the character introductions. The politics of the capital city put Machiavellian Europe to shame, and the rich writing and complexity of Annur is something beautiful to see unfold before you. No fantasy novel is really epic fantasy unless you've got some kind of mystical beasts, a tragic murder or two, and some angry or vengeful gods.
While all the elements of traditional fantasy are there, I have never seen them utilized so uniquely and they managed to keep in line with rules and systems of a realistic world. While there was a lot of setting up the players and a ton of laying out the groundwork for future plot movements, you never feel like the story drags or loses its pacing. Quite the contrary, I found myself wishing that I could keep going, read faster, and know even more as the story went along.
The Characters
Character development was wonderful. The Emperor's children are as different as day from night, but all of them are equally fleshed out as characters, exhibiting unique motivations and a fascinating set of values apiece. Kaden's character arc was exemplary. There are tragic heroes, and there are antiheros, but there are none quite as fluid or dynamic as the heir to the Unhewn Throne, Kaden.
His humble beginnings where we approach him initially show little notion of the man he is destined to become, yet there is something about Kaden and his past as a monk that give him a poise, confidence, and intuition with nature which creates a character base of steely determination which we see again and again as he makes his journey throughout the novel.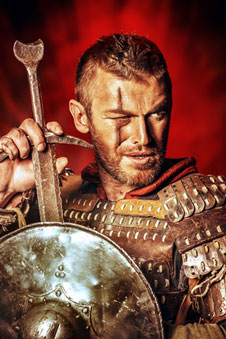 One of my favorite story arcs was Valyn, Kaden's brother, who was training with the Kettral. These men and women are the best of the best, and are the elite military force in the empire-very dangerous, and very VERY deadly.
Valyn was perhaps my favorite of the two brothers, but that was more for his perceived flaws than his strength of character, though he had both in spades. Being bullied by assassins/warriors-in-training is not for the faint of heart, and Valyn proves himself again and again. I think I just really enjoy intelligence in my heroes and Valyn was just as smart as he was quick with a blade.
Speaking of intelligence, Valyn and Kaden's sister Adare is as quick as a whip, and probably just as dangerous. Forget Katniss or any other female main character. Adare beats them all hands down- with her determination, her moxy, and her fighting spirit, she just owns her position as Minister, despite being named in her father's final hour. I do wish we could have spent a bit more time with her, as the majority of the story focused on her brothers, but she remained a great character despite her shortened screen time.
A near impossible feat, but Staveley has managed to create a world where all characters have unique aspirations and goals, while still remaining three dimensional. There are no carbon-copies, no stereotypes. Even lesser characters have a level of depth to them to really make them stand out, despite being in the shadows of the main cast. The sheer vastness of character development is shocking, yet lends itself to making you feel every blow that is suffered; every wound that lands on their body tears a hole in your own.
The Plot
Plot-wise, I have never been more satisfied with a fantasy story arc since the first time I read The Lord of the Rings. The Emperor's Blades hits you right in the gut, and make you live in the moment with the characters in a way that is very rare. This is story telling at its best, with detailed backstories and intricate twists and turns that make sense, but you can never see coming.
Plot threads that you didn't even know were important somehow get woven into the story so easily you are shocked when they come back to bite you in a plot twist or storyline shake up. While we weren't necessarily left grasping at straws at the end, there is definitely a cliff-hanger of sorts and you are left wishing that you had book two on hand in order to just keep going.
The Audiobook
The picture painted of the lands of Annur is extremely vivid. From setting the scene in wilderness or city, to depicting the tone or feel of a given place with body language, the movie in my head never stopped running the entire time. Imagery and scene depiction were epically captured, not only through Staveley's emotional and picturesque writing, but also through the narrative prowess of Simon Vance.
It is a rare narrator who can sound equally plausible as a woman or a man, but Vance certainly does it. Every simper, every fluttering lisp of a manipulative woman sounds like it's really being uttered by a feminine voice, and each character had their own unique inflections and tone. From rasping death throes to sly quips, the timbre and voice quality given to this piece really brings it to the next level. You immerse yourself in the world of Annur and its politics and you can't escape until the last second, even if you tried.
If Brian Staveley is not the next J.R Tolkien or George R.R. Martin, I will eat my laptop. The Unhewn Thrown is what fans have been waiting for years to be able to read, and is the stuff to inspire fandoms across the globe. I personally cannot wait to get my hands on a copy of the next book in the series, and it pains me to know that I have to wait ANY amount of time before I can pick up with my new favorite cast of characters.