Blood Song: Raven's Shadow Book 1 by Anthony Ryan (Unabridged) Audiobook
Narrated by: Steven Brand
Running Time: 23 hrs and 5 mins
Blood Song by Anthony Ryan is the first book in the Raven's Shadow series. While I don't know how many books that series is scheduled to have, you can bet that I will be adding them all to my pre-order list on Audible.
I was surprised to find that this was Ryan's debut novel, as it has such an interesting complexity of plot and imagery that you would expect him to be a tried and true artist of the genre, rather than a youngster. Steven Brand is a new narrator to me, but his lithe and graceful cadence and delightful fluidity of speech helped Blood Song to soar to the heights that it deserves. He did wonderfully interesting things to affect growling harshness and booming adversaries, and helped the characters really come out as unique and different.
The Sixth Order
Beginning with a dark tale of the Hope Killer, right away we are thrust into a gritty world where you can practically smell the blood on the cobblestones at night. Amidst flashbacks to the past and glimpses of the present, we alternate back and forth to illustrate a story of bravery, destiny, hard lessons, and inner strength. While I am not typically a fan of the time jumps that Ryan used, it didn't bother me in this instance. Perhaps because both sides of the story were told with such detail and gusto, I rarely felt out of place even as we jumped from time and setting to alternate places.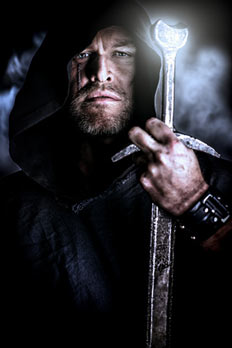 Vaelin Al Sorna doesn't have the privilege of the common orphan to have lost the memories of his family in his infancy. He wasn't left on a doorstep as a babe, nor lost from his parents in a tragic accident. No, Vaelin's father, Battle Lord to the King, determined his fate at the age of ten by leaving him at the cold gates of the Sixth Order.  In one fell swoop, Vaelin loses his birthright and his future, or so he thinks. The brothers of the Sixth Order are defenders of "The Faith", and as such have a deep and foundational role in this world's religions.
Personally, I am a little touch and go with fantasy based religions. Too much like a modern day religion, and you risk stepping on toes when uncomfortable questions are brought to light; too little detail on the gods, or the scope of the hierarchy of the religion, and the whole system falls flat so that you have a loop-hole filled faith that makes more trouble for the plot of the story than it is worth. I felt that Ryan spent a lot of time creating not only his world, but also must have spent some real time understanding the complexities of "The Faith" and the Sixth Order's place within it. Because of such attention to detail, and the fact that much of the book revolves around the religious systems of the world, we as readers get a VERY detailed and complete understanding of how things are supposed to be.
Vaelin Al Sorna
Vaelin was a very hard character, at least at first. He seems alternatingly angry at everything and then blissfully ignorant of some things I felt he should have been able to understand. Now, while his anger is understandably due to the abandonment issues he suffers in regards to his father, it still left me bristling when dealing with his hard attitude, and annoyed when I felt that he was being willfully uncomprehending of simple ideas. However, throughout the course of the book, he definitely grows on me.
While I tend to find coming of age stories a bit trite and somewhat clichéd, Blood Song manages to avoid both those labels excellently by painting Vaelin in a different light that what is the norm for epic fantasy. He has both internal and external motivations weighing on his decisions, and it is very fun to guess at how they are going to influence his decisions. Sometimes, I was even right…but most of the time he surprised me with his character and his choices along a very tough path.
Blood Song is the kind of story that leaves you emotionally spent, having spent the last days or so running from scared, to tense, to frustrated, to gloriously happy, and deep into despair. In regards to pacing, one of the biggest crimes of the epic fantasy genre is that stories tend to seep like spilled molasses. Sure, it coats everything in its path, but it goes so slowly that you feel like you aren't seeing movement at all. Anthony Ryan manages to shuck the tendency of the genre fabulously, but writing into his plot very meaningful events that advance the story at a rapid pace until you feel like you're at full gallop and never want to stop.  A warning to the faint of heart, there is a ton of violence everywhere. But who am I kidding…In the genre where George R.R. Martin is held in god-like reverence, what are a few dead bodies and some vicious fighting here or there?
The Audiobook
Blood Song is one audiobook that you will most likely speed through on your initial read, loving every minute of it, and then you will go through once more, savoring every twist, character reveal, and betrayal like the sweet and savory morsels that they are. This is an excellent story, one that now resides in my "play again" section of Audible.com. I'm already envisioning just which of my nieces and nephews I can spoil and corrupt by sending it their way.
As with most epic fantasies, this is a convoluted and involved sort of story that has some length to it so should not be for the faint of heart. There are many threads woven into Anthony Ryan's web, so be sure that you have time to appreciate every one and to take the time to sink into and become part of such a cool world. Blood Song leans more toward adult in nature, but has many facets of the coming of age narrative, so I would actually recommend it to that "new-ish" category of New Adult.