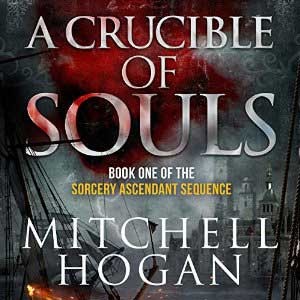 A Crucible of Souls: The Sorcery Ascendant Sequence Book 1 by Mitchell Hogan (Unabridged) Audiobook
Narrated by: Oliver Wyman
Running Time: 21 hrs and 39 mins
In A Crucible of Souls, the first of the Sorcery Ascendant Sequence, allow yourself to be swept into a world of mage craft, violence, and the gritty, witty realism that defines the epic fantasy genre.
After the brutal deaths of his family at a young age, Caldan is taken in by the local monastery. Unaware that the deaths may not have been an accident, he blissfully continues to grow up as a ward there, learning alongside the sons and daughters of the noble class. As he nears his 18th birthday, he longs to become a full apprentice and learn deeper crafting, but his plans are torn to pieces when he gravely wounds a noble student in a duel. Banished from the only home he really can remember, he is forced to adapt to life in the greater world. Yet the city of Anasoma, part of the greater empire and a much bigger and trickier place to live than his former island home, presents a greater challenge than Caldan knows.
Mitchell Hogan was a "new-to-me" author, and I'm a huge fan of his writing style. Imagery is bold and striking without being too wordy or unwieldy as to distract from the action of any given moment or the overall plot of the story. Caldan was the most frequent narrator but there were countless others, from an apothecary who heals Caldan of his wounds to twisted beings from before the Shattering whose purpose is unknown.
The Characters
I loved that each character had such multi-faceted personalities and motivations. Everyone has a family history, a financial history, a personal and relationship history. I sometimes wondered how Hogan was able to create such depth for someone as insignificant as a lowly kitchen boy. Very cool and very worth the intricate details if you have the time for it. From the sheer amount of characters and the detailed lives they enacted within the book, I'm sure that this novel was a massive undertaking on Hogan's part. Clocking in at just under 24 hours, this one may take you a while if you are anything but a daily listener of audiobooks. I myself have a 30 minute metro ride into work and back, so it took me just under a month to listen to all the way through. I tell you, riding the subway has never been more nefarious, magical, and adventurous.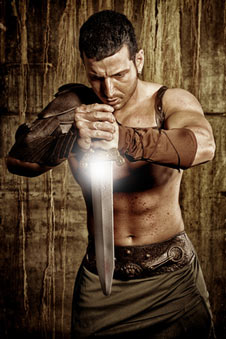 One aspect that I thought was particularly cool, was the game called Dominion. Seeming to be a cross between chess, Stratego, and a bit of luck or chance, Dominion was sort of an indicator of magical power-or so it seemed. I liked the background that Dominion gave Caldan and other characters. I enjoyed how the strategic elements of the game seemed to couple with real life situations and overall themes in the novel as well, as the game sort of highlighted what Caldan thought and felt.
As far as main characters go, Caldan was an unusual one. I loved his sections the most, as he was the central figure; however he had something about both his personality and his choices that he held back from the audience. This could have been a brilliant developmental choice on Mitchell Hogan's part, showing how he was an incomplete character before he began his journey towards fate. It also could have just been that I don't like my heroes to be quite so passive in their stories. Caldan frequently was the victim of circumstances outside of his control. His life was dictated by the monks after his parents died, then the sword kind of took over and injured Marlin, then he allowed himself to be buffered about by nearly everyone he met from Miranda, to the members of the sorcerer's guild and beyond.
The first book of any series showcases the unfinished product, clearly depicted by Caldan. He's the steel and iron bars that have yet to be shaped into a blade or axe. I longed for him to start being shaped and molded by his experiences, but it took a long time to get going. There were some good things going for him though; he was noble, kind, smart, and thoughtful-all good pieces to a hero. I think that with some time, and many more books in the Sorcery Ascendant Sequence of course, he will grow to be a fantasy leader of worth, merit, valor, etc.
The plot, pacing, and story structure was absolutely fabulous within A Crucible of Souls. There was simply so much going on! There was mystery of what happened to Caldan's parents, the magic happening within Caldan's own body, the insidious danger of an outwardly typical trading company, and an evil that no one expected. The many characters might not have been crucial to the story so far, but all of them at least have threads weaving into each other so that you know they will become some sort of intricate knot in the next book or two.
The Audiobook
The narrator, Oliver Wyman, was very skilled at throwing and altering his voice. In a book with such a large and diverse cast, it is very impressive that he was able to give each character their own tone, cadence, and inflections in order to distinguish one from another. If I had one complaint, it was that both Caldan and the women's voices had an unusually nasal quality that jarred from time to time. This made the women seem like fawning simpletons even when they were making massive, plot-altering decisions. Caldan too was affected by this, making him seem to be a bit of a ho-hum boring kind of guy instead of this epic swordsman and magic wielder that he was supposed to be.
Those who haven't heard of Mitchell Hogan should take note: A Crucible of Souls is one of my favorite fantasy books I've listened to in years. It's one of those books that you find yourself listening to far past your bedtime because you just need to hear what happens next. While it follows the same general structure as many of the greats in epic fantasy, Hogan's storytelling and deft at crafting interesting characters move it far beyond the typical "orphaned boy with magic" tale. I'm continually shocked that this was a debut novel, as it is clear that Hogan has much skill in the way of wordsmithing. While long, A Crucible of Souls is completely worth the time spent reading/listening. Expect great things from this series; I know I do.