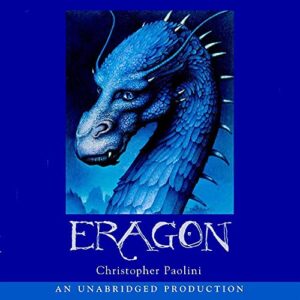 Eragon by Christopher Paolini (Unabridged) Audiobook
Narrated by Gerard Doyle
Running Time: 16 hrs and 21 mins
Eragon is an exciting tale about bravery, honor, and tradition. Written by a 15-year-old boy, this book is a coming-of-age story that discusses themes that everybody can remember from their youth. Amidst a stunning setting, an exciting plot, and relatable characters, Eragon teaches young people how to find their voice and secure a place for themselves in a world that can sometimes be overwhelming.
Synopsis
Eragon is a young, poor farm boy. He lives with his uncle and cousin in a small village called Carvahall. He knows next to nothing about his parents, who left him in the care of his uncle when he was born.
One morning, Eragon goes out hunting and finds a mysterious blue stone in the forest. Soon, he discovers that the stone is actually a dragon egg. Once his dragon hatches, life is never the same for Eragon. His home is ravaged, and he and his dragon are forced to flee with Brom, a mysterious storyteller from the town. As he embarks on his journey, Eragon learns more about his past, his family, and what he must do to save the kingdom.
The Characters
The characters in Eragon are as intricate and intriguing as the plot. The many character interactions and the feelings the characters have for each other move the story forward and cause the reader to care about them as well. While there are several supporting characters, there are six main characters whose actions have the most impact on the plot.
Eragon, the title character, is the main protagonist of the story. He has never known his parents, but his uncle and cousin are more like a father and brother to him. When Eragon finds a dragon egg, he becomes one of the few remaining Dragon Riders. It is his quest to restore the ancient order of Dragon Riders and save the kingdom from its evil king.
Saphira is Eragon's dragon, and her personality is as fiery as her breath. She cannot speak, but she is highly intelligent and communicates with Eragon with her thoughts. This causes her to seem mysterious to all of the other characters, but she is as kind-hearted as she is fierce. She is very protective of Eragon, and she accompanies him everywhere.
Galbatorix is the evil king of the land of Alagaësia. He was once part of the ancient order of Dragon Riders. However, he turned evil when his dragon was killed. He used dark magic to twist the mind of a new dragon, and he now seeks to destroy all dragons and their riders so that he can be the only Dragon Rider in all the land. He rules over his kingdom with terror, and Eragon fights to overthrow his regime and bring peace to the land.
Brom is Eragon's friend and mentor. At first, he just seems like a mysterious storyteller in the village, but Eragon soon finds out that he has a dark and intricate history. He knows all about dragons and Dragon Riders, and he teaches Eragon about the ancient order. He also teaches Eragon how to use magic, and he helps protect him in his quest.
Arya is a beautiful elf maiden who helps give Eragon's quest a purpose. She appears to Eragon in his dreams using magic, and he sets out to find her. She gives him information to help in his battle, and she teaches him about dragons and Dragon Riders. The elves are the ancient guardians of magical knowledge, and Arya takes this role very seriously as she coaches Eragon.
Murtagh is perhaps the most mysterious character in the entire story. He encounters Eragon and his party when they are captured by agents of the king. He becomes their new ally, and he helps Eragon find the elf girl from his dreams. Murtagh's intentions and allegiances are unknown, and Eragon is never quite sure if he can trust him. However, Murtagh is a skilled fighter, so Eragon allows him to become an ally.
Setting & Plot
Eragon is set in a beautiful land with a rich landscape and a varied history. With a massive desert at its center, the kingdom of Alagaësia is dotted with lush forests and towering mountains. The land used to be guided and protected by the Dragon Riders, but it is now under the oppressive rule of the evil King Galbatorix. This is the perfect setting for the epic fantasy quest that is Eragon. The landscape is as magical as the plot, and it allows for many different types of adventures.
The plot of Eragon borrows a few popular themes from other works in the fantasy genre. However, the author weaves them together in such an expert way that they take on a whole new meaning. The concept of a young boy coming of age and finding his place in the world is one that everybody can relate to. The possibility of ancient magic coming back to life to save people in danger is a plot that inspires passion and motivation in anyone who reads it.
The themes of this story are timeless and inspiring. Accepting who you are and taking your own destiny in your hands are lessons that every young person needs to learn at some point in their lives. Eragon is also about sacrificing your own comfort for the good of other people. The different characters illustrate this theme beautifully as they interact with each other and care for one another.
Audiobook Narration
Narrated by Gerard Doyle, the Eragon audiobook brings life and excitement to the characters and the story. The music at certain points in the story draws you in and sets the tone for the tale. Butler takes great care to add dramatic pauses in the text to allow the message to sink in. He also is an expert at putting on voices for the different characters.
Allow yourself to be sucked into the fascinating story that is Eragon. With the audiobook at your disposal, you can hear and appreciate the book on a whole new level. The characters, setting, and story are sure to enchant you.