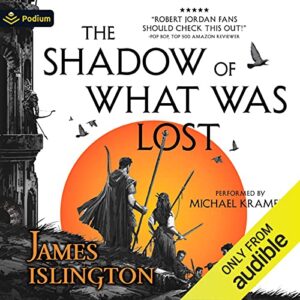 The Shadow of What Was Lost: The Licanius Trilogy Book 1 by James Islington (Unabridged) Audiobook
Narrated by: Michael Kramer
Running Time: 25 hrs and 28 mins
It has been nearly two decades since the revolution, when the people realized that the Augurs, mystics who had visions and other mystical powers, weren't gods and could die like any mortal men. After the Augurs fell and the world was forever altered, the leaders of the rebellion took control. Those not powerful enough to be Augurs, but possessing the lesser mystical Gift were culled violently until only a very few were left, and those would be forced into the absolute obedience of the Four Tenants in order to control their powers.
The Characters and Story
Davian is one of those blessed, or cursed, with the Gift and is in training to control it and become a productive part of this new world. Yet Davian's gifts aren't like his peers, he's frightened to admit it even to himself and those closest to him, but Davian's powers tread dangerously close to those that the Augurs used to possess. In order to avoid detection and certain death, he flees, setting into motion a domino effect of consequences that no one could have foreseen, even with the powers of the Augurs.
The Shadow of What Was Lost by James Islington showcases a dark and gritty new world, where power systems are broken as easily as they are created, and where enemies once thought of as defeated have the power to rise again.This was the first of a planned trilogy, the Licanius Trilogy, and did a great job of set up and world building. This is a story that is occurring after another great story took place. We're just past a major historical revolution and the commoners did not take to power well. Wounds exacerbated by war and death have festered, and those once in power have learned the taste of servitude and obedience.
While there were many go-to elements of the genre present (mysterious and abandoned city, fallen race of god-like creatures, young chosen one to redeem an entire race) the story somehow managed to maintain its own unique qualities and present a seemingly original work despite the common themes and tropes. One of the more fascinating aspects to me was how rigidly controlled the magic users were. It's normal to see non-magic folk being dominated by the power-users, but quite another thing to see it reversed, which I thought was a unique exploration of human socio-politics. The Shadow of What Was Lost is part coming of age tale, part epic fantasy, part totalitarian dystopian, and all parts deeply creative world building.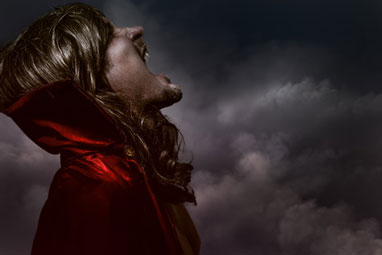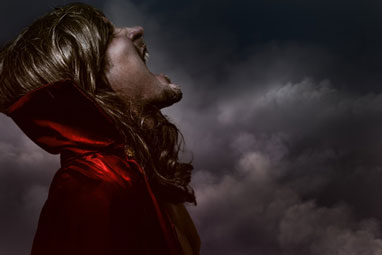 An unusual thing about this book was how little importance the main character, Davian, seemed to have within it. While he obviously filled a major role, the story itself was really a reflection of the past history of the land. Davian was as wet around the ears as we, the readers, were. He knew practically nothing about the world he lived in, which was great, because as he had each painful revelation exposed for him, we got to learn right along with him. Still, because he was mainly an object off of which the other characters could bounce thoughts, history, and ideology, it was a little hard to relate to him. I found myself much more drawn to the character of Asha, and her scenes made me perk up and really get into the story.  The ending was not something that I had expected. The book was full of lots of things that confirmed or ingrained epic fantasy tropes into my head…but then the ending was kind of like a bait and switch. No spoilers here, but it was a bit of a shock to say the least!
The Audiobook
The audiobook itself was pretty long. It took me more than a few metro rides to get through it, but my commutes were cheered along by the linguistic talents of Michael Kramer. This man has an extremely theatrical voice. I mean there are animated voices, but Kramer was able to create such dynamics, such ebbs and flows, that it was almost unbelievable. The difference between Michael Kramer's rasp and the run-of-the-mill narrator's rasp is the difference between an earthquake and a pickup truck.
That being said,  bringing such a lively animation to the voices that you sometimes believe you're in the middle of an animated cartoon, I found myself being somewhat distracted at times.  There was no softness to the voices; they were all hard edges, guttural barks, and aged rasps. In all honesty, I could have used the theatrics to be turned down a notch, but you can't help but be impressed by Kramer's range, versatility, and vocal ability. As with many male narrators, he did seem to struggle with the balance of femininity and silliness when creating a female's voice. Many of the girls seem like breathy waifs, whether intentionally or not. Overall, Kramer's linguistic gymnastics were quite impressive.
Conclusion
The Shadow of What Was Lost is James Islington's debut novel, and what a debut it is! There are strong nods to influential authors of the modern fantasy genre, but the book stands on its own two feet as well. I found that comparisons to Robert Jordan's Wheel of Time and Brandon Sanderson's work were correct in theme only, as the story seemed to be stylistically different and on an ideological level as well.
There were similar elements and motifs in Islington's story, but the flavor and the writing style seemed completely different. The focus was on the magic, and on the history of his world rather than on the inner workings of the characters. Hopefully we can expect more character growth and development from further books in the series, but for the meantime, I'm content with the complexity of the world building and the blunt stylings of a novel well done.