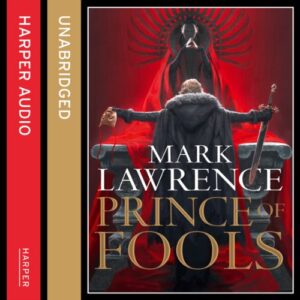 Prince of Fools: The Red Queen's War, Book 1 by Mark Lawrence (Unabridged) Audiobook
Narrated by: Tim Gerard Reynolds
Running Time: 14 hrs and 37 mins
Prince of Fools by Mark Lawrence is the first book of The Red Queen's War series. Fans of Lawrence's Broken Empire works will be overjoyed at the further expansion of a known and beloved world. Never having read or listened to a Mark Lawrence book, I approached this one with a very open mind. Nearly fourteen hours later, and having had my fill of lightly veiled sarcasm mixed with courtly intrigue, rough and tumble violence, and a storyline to kill for (literally in some senses…) I am proud to say that I'm a newly confirmed fan of all that is Mark Lawrence. To be frank, Lawrence is one hell of a writer. I very rarely get so caught up in a book as I was with Prince of Fools, and the combination of Lawrence's snark with Tim Gerard Reynold's narration was enough to have me giggling away into the wee hours and alternating between fearful breathlessness and exhilarating excitement. 
The Characters
Our introduction to the hero-or should I say anti-hero- was a great ride. The reader gets smacked in the face with Prince Jal's character from chapter one as we follow him on a death defying leap into the Azalea bushes to escape from a furious brother's pursuit to save his sister's honor.  From that moment on, I knew I had found a very likable scoundrel of a character and that I would be in for a very wild and nefarious ride over the course of the book.  I was not disappointed when Jal's womanizing, debauchery, and drunkenness was further expanded upon and while he seemed surly and sarcastic, he grew on me like an annoying and unrepentant scab.  We also are treated to the addition of Snorri along the way, who steals the show with his brute force and personality.  I pictured him as a bit of a bulkier Alexander Skaarsgard, complete with all the hulking musculature and flowing blonde hair which is the shining definition of a classic Norseman. 
Jalan is depicted as the worst sort of coward, and though he is purposely dragged through the mud, I still found him relatable and endearing.  It's strangely refreshing to step away from the selfless heroes of most fantasy and find one whose number one interest is in keeping he neck from a noose and saving his skin from pain or death. Then too, it was great to see a kind of foil in Snorri, as his brash boldness and courage could be seen as heroic one moment and detrimental in the next.  They are brought together by relative chance and are basically forced into cooperating in order to meet their goals. Destiny or fate, take your pick, but these two were meant for each other and their quest succeeds on multiple levels based purely on their undeniable chemistry and rapport.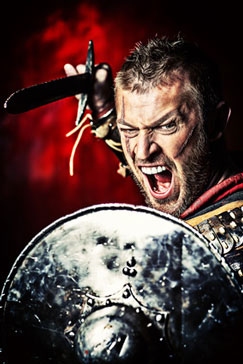 Character tropes like the scoundrel and the honorable warrior could come off as two-dimensional from a less skilled writer, but Lawrence does each character justice by providing a unique set of goals and motives to each one. His depth and creativity in terms of character development, paired with extremely clever delivery on the part of Time Gerard Reynolds in the tone of each of the character's voices, ensured that both Snorri and Jalan grew to be favorites.
Both the history and magic of this world worked wonders, and coupled with Jalan and Snorri's growing characterization, gave me such a thrill! The plot was just convoluted enough to keep me guessing, while simultaneously wowing me with each new twist and addition. In an interesting choice, there was a mix of necromancy in the magic systems which seemed reminiscent of the zombie-like White Walkers from Martin or Ring Wraiths of Tolkien.  If you like your stories charged with battle, Vikings, mystery, death and any combination of the above and more, you're in for a very enjoyable ride in terms of Prince of Fools. 
The Audiobook
Tim Gerard Reynolds is a new voice in audiobooks for me, but one that I would love to listen to again anytime.  His diction rivals many of the greats in fluidity and tone, and he was able to create uniquely different voices for vastly different characters. His choices reflected a whole new level within the character that adds so much more than I think even the author could imagine for his own characters. Although I do admit that the rolling and melodic cadence of Reynold's voice did lull me to sleep late at night a time or two. 
The Broken Empire
At some instances, I felt that the world building could have been expanded upon a bit further, however I am writing that with a grain of salt and taking into consideration that there are at least three previous books that feature the Broken Empire, as well as a few novellas thrown in. Undoubtedly, I've missed some world building by not getting these beforehand, but I thought it was worth the mention for other first time Lawrence readers like me. 
The saving grace in regards to the world-building was the beautiful imagery that Lawrence used to paint the scenes and characters that did have enough screen time.  I was absolutely enthralled by the Red Queen and The Silent Sister. While they were not the main characters, their presence was felt throughout the course of the novel in their influence on Jalan and Snorri. I can't wait to see how the Red Queen fares against the Dead king. 
This series already has a good mix of darkness as well as light humor and hilarity, but still possesses that edge of violence that makes you feel threatened and tense while reading. At the close of Prince of Fools, you are left with the creeping sense of despair that only the end of a great book can instill in you. It's that bittersweet moment where the ride is over, but the aftershocks and memories are still fresh and full of life and enjoyment. As mentioned, I am now a dedicated Lawrence fan and will be doing my utmost to get caught up on the rest of the Broken Empire world over the next few months.  
* Please note: this review references the original narration by Tim Gerard Reynolds. The Prince of Fools audiobook has recently been updated with new narration by Sean Ohlendorf.