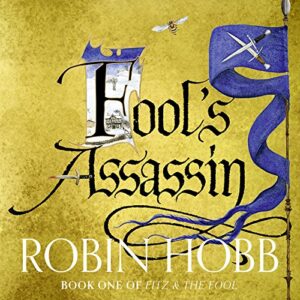 Fool's Assassin: Fitz and the Fool Book One by Robin Hobb (Unabridged) Audiobook Narrated by: Lee Maxwell-Simpson & Avita Jay.
Running Time: 28 hrs and 40 mins
Fool's Assassin is the first book of the Fitz and the Fool series by Robin Hobb. A middle aged family man, Tom Badgerlock (aka FitzChivalry Farseer) is living a happy, content life in the familial home of Withywoods and loves his wife Molly and their children dearly. Memories of his past life as assassin and the hated bastard of the family do creep in during times of trouble, but for the most part he is happy and enjoys the life he has built.
Much of the book is spent in the back and forth of Fitz's mind and in seeing his new life running Withywoods. Fitz is established now, and has much to lose because of his checkered and troubled past. Soon enough, remnants of past friends and enemies haunt him and he's thrust into a new challenge with problems, danger, and mystery abound.

The Story
I was surprised and intrigued that the first book in a series would start at such a late date in a protagonist's life. While most fantasy books start off with the hero in his youth, detailing his tragic story before his eventual triumphant rise and kingship, lordship, or other form of glory, Fool's Assassin skips those details almost entirely and we really meet Tom when he's already past the prime of his life and seems to be fading into history. Yet Robin Hobb's choice to stage the story really set it apart from the day-to-day of epic fantasy.  Technically, the Fitz and the Fool Trilogy is a sequel series to the Farseer Trilogy and it falls within the same world as most of Hobb's other works, but I was able to get right into the story and enjoy it without having read the Farseer Trilogy. However, I enjoyed this story so much that I have major plans to start over from the beginning and catch up on all that I've missed.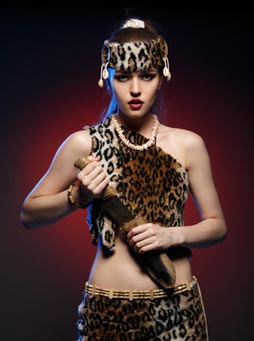 While the POV stuck mainly to Fitz, I did enjoy the forays into the mind's eye of Bee. I'm a big fan of multi-POV for the dimension it adds to each character featured and I had a fun time getting to know them both! The pace itself of this story was much slower than I expected. I enjoyed the imagery that the slow pace allowed for, but at the same time I found myself anxious to get on with things and to learn more about the story and the world.
World-building was good, and I enjoyed the frequent re-touching on past events, simply because I apparently missed out when I was a child by missing this series in its infancy. The flashbacks and moments of recall helped me out quite a bit, but I could have used a bit more re-touching on the magic systems-however I was alright with this lack because of how far into a series I seem to have stumbled.
If I have one complaint, it is that the names were entirely too rudimentary for my liking. Not only were they simple and included names such as Webb, Nettle, and Revel, but they were also clearly unisex. As I was listening to this book and didn't have a visual accompaniment to the names, I found myself getting all too confused and straining myself to remember if Revel or Riddle were the more important character, and which were male or female. The main characters had typical names like Tom and Molly, but the supporting cast had such interchangeable names it seemed that the goal was to instill confusion. Even gender wasn't a sure thing. Occasionally you would get some semi-obvious ones like "Chivalry" for a man or "Desire" for a woman…but even those could be a hit or a miss.
The Characters
In my opinion, Hobb's talent is by far in creating characters. It isn't so much each individual character's depth and personality although they are all fully fleshed-out, dynamic, and deeply personal. The best part of these characters is how you can so clearly feel their relationships to each other as if they are tangible things. It's literally the difference you feel in chemistry with certain relationships and lovers. Some you feel almost as if there is a glowing force between the two of you, a powerful pull that you feel in every muscle of your body. Others are just passing flings. Well…Hobb's characters are all about the chemistry and I feel like I know them even more than some of my own passing relationships! It is so apparent that Hobbs really knows people. She knows how they relate to each other, she knows how they speak, and she knows how they move. Her skill is unmatched by any other author that I have read in a long time.
The Audiobook
Elliot Hill was an excellent narrator in nearly all aspects. Paired with Hobb's amazing insight into imagery and the rustle of skirts and flicker of fire flames, it was quite easy to find myself taken away by the narration and the pictures Hill's ramblings brought to mind. I particularly enjoyed his portrayal of anyone in the upper class-his inflections immediately called to mind a snobby noble, nose firmly planted in the air. It was an additional treat when he would switch to strikingly coarse and craggy voice to implant the image of a stocky, ruddy bar maid with a sailor's mouth.
All in all Hill gave the story additional layers of detail which I appreciated. His one flaw however, involved feminine voices. These were not so much feminine, as they sounded like a man attempting to be feminine. You could hear a kind simper in every female's voice which didn't translate well coming from a man. Still, at least you could tell he was attempting a female voice with this choice, so it wasn't a total loss.
The Fool's Assassin audiobook is a great listen all around. It was enjoyable and different from the norm, and will most definitely be a coveted read for fans of Hobb's other works. I myself feel as if I have missed out on something great as I grew up and it's my dearest desire to get caught up. Hobbs has officially found her place on my keeper shelf and I have no plans of letting her off any time soon.
* Please note: this review references the original narration by Elliot Hill. The Fool's Assassin audiobook has recently been updated with new narration by Lee Maxwell-Simpson & Avita Jay.