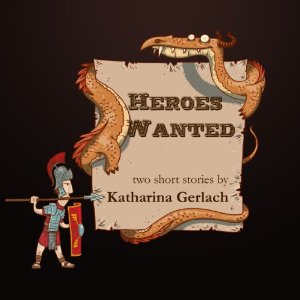 Heroes Wanted by Katharina Gerlach (Unabridged) Audiobook
Narrated by: Linda Joy
Running Time: 56 mins
Heroes Wanted is a couplet of short stories created by Katharina Gerlach and narrated by Linda Joy, and the theme is clear within the title. Heroes are in need, and they come in many forms. Sometimes, heroes are false and weak, other times they are intensely real and honorable to their own detriment.
The first story in the set was perhaps my favorite, but both were captivating and intriguing in their own ways. Listening to these stories was like seeing two sides of the coin when it comes to heroes. One of my only complaints for the pair of stories was that they were both so very short. I could have very easily kept listening to both stories for hours more than the barely an hour of listening time required for this short. 
Life – Divisions of Myths and Legends
"Life ™- Divisions of Myths and Legends" is a fascinating look into the backstories of heroes. It turns out that heroes hire the divisions of Life ™ in order to become the heroes that history and legend will remember for ages. In need of a dragon to slay? Call up the fantasy department and book one to show up after your morning porridge.  
Rose is an average grunt worker for the Division of Myths and Legends and she is having a hard time keeping her clients. One jerk in particular, Siegfried von Xanthen, keeps threatening her unless she can procure a heroic task this very minute. Although the powers that be seem to be intent on getting Rose to quit, this heroine is not going down without a fight and is going to do anything it takes to keep her job.  Putting up with arrogant and demanding heroes, trainees who are way too young and a conspiring co-worker who is trying to usurp her every move is more than a full time job and she's got to get on top of things fast. 
One of the aspects of the writing style that I enjoyed the most was that the imagery was so real, so visceral. You could envision portals and mirrors into history that allow these "beings" to divvy out heroics and legends to those willing to pay the fee. There was a quality of timelessness to the stories as well. The divisions of Life ™ seem to live in an alternate realm, supplying magic, legends, and all sorts of other creatures and mystics to our own realm for profit.  To me, this is one of the most unique and modern realizations of where our stories and myths come from. I applaud Gerlach's creativity and imagination! As an avid mythology reader, I sincerely appreciated the nods to different mythos and references to stories and legends that made you feel like you were in on an inside joke with the author. 
A Different Perspective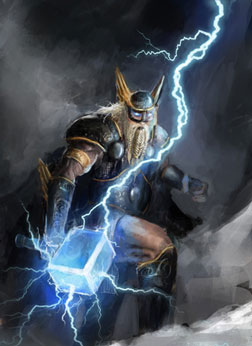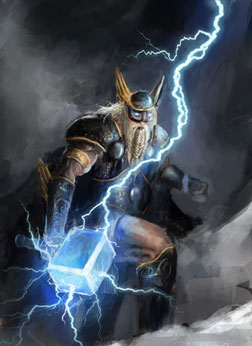 The second story, "A Different Perspective", was much more mythological in origin and we got a chance to spend some quality time with the Nordic gods.  Many will know of Odin and Asgard because of their presence in the Thor movies from Marvel Studios, but there is such a richer history and mythology that surrounds these gods than can be conveyed by mere super hero film or comic. These stories are bloody, violent, and very dramatic.
Gerlach's prose so effectively captured this style of writing that I would expect to see it along the likes of the Elder Edda, and other traditional texts of myth. It was a fascinating look at the death of gods to an up and coming religion, and what happens to the Gods when battles are brought to their own doors. 
Gerlach's love for both fairy tales and mythology is alive and well within the pages of this book, and is very evident by her care and attention to detail within the character backgrounds and the storytelling in Heroes Wanted.  Although the themes and characters in the two stories are straight of certain Norse and Celtic mythologies, the storytelling itself had an air of Hans Christian Andersen which was both enjoyable and familiar.  There was also a modern flavor added into the mix, incorporating computers and technologies in a way that is usually not seen in myths and legends.
The Audiobook
I enjoyed the introduction from the author. She really explained her thought process and how the story developed in her mind. It was clear why she didn't narrate the whole book because her accent was rather thick, but I enjoyed getting to hear her voice.
Linda Joy's narration was lovely, ringing out crystal clear when needed, and with a low grumbling harshness when called for as well. Light yet direct inflections of Joy's voice gave rise to beautiful and differing accents that allowed fair acknowledgment to the heritage of the characters. You could clearly hear various German and Nordic dialects which created an amazingly realistic quality in each and every individual voice. Getting the author's perspective on her own work however, was very meaningful and helped me get a feel for both her as a person and how her style comes out in her stories. A very pleasing short listen to those who love myths, adventures, and getting a look into some cool "behind the scenes" action!