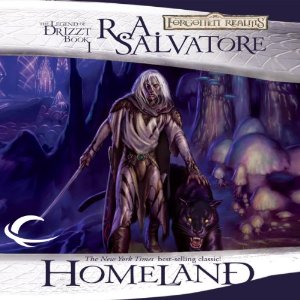 When R.A. Salvatore wrote and published the Dark Elf Trilogy, it was not set in its own stage. In fact, the second trilogy in the Drizzt Do'Urden saga already had its main character defined in the Icewind Dale Trilogy first, so Salvatore had to stay within certain parameters going backwards like George Lucas and writing a prequel to an already-set story.
That said, the author took his time and created all the elements that made Drizzt such a harsh but conflicted character. By the time a reader is done with the Dark Elf Trilogy, the cold snows of Icewind make perfect sense for someone who wants to be left alone most of the time.

The following article may contain spoilers.
Homeland: Dark Elf Trilogy, Book 1 by R. A. Salvatore
Homeland by R. A. Salvatore (Unabridged) Audiobook
Narrated by Victor Bevine
Running Time: 10 hrs and 18 mins
The story starts off at the very beginning of Drizzt's life as he is born into a Drow, dark elf, household. It's important to understand the relevancy of this. Drow society is not only an underground race of elves, it is a matriarchal society where female Drow have a higher status than their male counterparts. The entire race is then driven by a structure of religious fanaticism dedicated to the dark elf god, Lolth, a half-Drow, half spider entity. Further, Drow society is made of houses, similar to Machiavellian society in Florence, where each family is out to eliminate the other. There are no in-between players, everybody takes a side and looks to find an advantage to eliminate the other.
When Drizzt is born, his family is at war with another family and on the verge of winning that battle utterly. Technically, as the third male offspring of a female Drow, Drizzt should have been sacrificed immediately. That said, his older brother killed Drizzt eldest brother, so the newborn is not number three anymore. That immediately marks Drizzt as a frustration for Drow priestesses.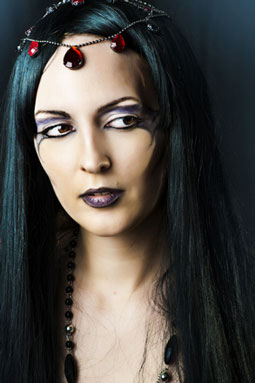 Drizzt grows quickly and shows great aptitude at a very early age in both magic and physical prowess. His fighting prowess leaps ahead, accomplishing feats that weapons experts themselves couldn't do until years of practice. It's in his growing weapons skill and training that Drizzt is first exposed to how Drow fight in real time, and how brutal they are towards their enemies, even after defeat. The brutality shocks the young elf and permanently marks him mentally.
Drizzt continues training and works with new, more challenging trainers. It's in these experiences he first meets Guenhwyfar, a magical panther under the control of one Drizzt trainers. During this period, a remaining survivor of a house Drizzt family destroyed tries to get revenge but fails. It's the first attempt of a major change coming for the young dark elf. Following this event, the elf makes decisions that catch the matriarchy's notice. He is punished but survives, and so Drizzt is admonished to follow the rules and females of Drow society – don't be a troublemaker. The elf finds himself in more and more challenges being disgusted with Drow society and being far happier alone in the Underworld caves away from anyone.
A critical moment brings Drizzt again together with the magical panther, Gwenhwyvar, and this time permanently. In that crisis, the dark elf manages to eliminate two major enemies, but the female Drow priestesses have been watching through magic. Drizzt last friends are sacrificed to spare him, forcing Drizzt to abandon the Drow world completely to the caves and the Underworld. This first audiobook then creates the catharsis that represents Drizzt permanent scar, the past that he can never go back to.
Exile: Dark Elf Trilogy, Book 2 by R. A. Salvatore
Exile by R. A. Salvatore (Unabridged) Audiobook Narrated by Victor Bevine
Running Time: 10 hrs and 12 mins
The second audiobook in the Dark Elf Trilogy picks up with Drizzt finding a way to survive in the caves of the Underdark, essentially becoming more hunter and natural predator in the environment than civilized being in his old Drow city left behind. By this time, his former house has become an embarrassment to Drow society, and they are hunting the general region to find Drizzt and kill him for redemption under Lolth, the spider dark elf god. The head of Drizzt family personally wants his head on a pike to regain her former societal status.
Teams of Drow warriors from his own family go after Drizzt again and again, but they come up empty-handed. Finally, the house matron resurrects Drizzt dead father as an undead monster to find and kill the dark elf. In the midst of trying to escape, Drizzt befriends a gnome and a Pech that's been converted into a giant, underground crab monster by an evil wizard. Fortunately, the Pech still remembers who he is most of the time, so he becomes a valuable ally. Finally, the undead chaser is defeated but Drizzt and his gnome ally lose their Pech friend as well. Drizzt also finds his way to the surface and leaves the caves entirely. His family matron collapses from magical defeat when her undead monster is destroyed, and the rest of Drow society cave in to wipe out what's left of the household.
As a result, the second audiobook seemingly closes the chapter on Drizzt underworld life, but it also shows his willingness to ally and become friends with creatures of other races. This trait, which is very un-Drow like becomes a critical skill on his part that will protect and help the dark elf for years to come. It will also be a challenge as dark elves can live, on average, up to 700 years, far longer than other races. It's a bitterness that will be reflected in Drizzt recollections later in life.
Sojourn: Dark Elf Trilogy, Book 3 by R. A. Salvatore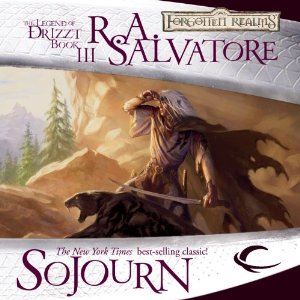 Sojourn by R. A. Salvatore (Unabridged) Audiobook Narrated by Victor Bevine
Running Time: 10 hrs and 14 mins
In the third audiobook of the Dark Elf Trilogy the Drow exiled elf has now spent some time on the surface, but just because he's forsaken his race and their brutality doesn't mean that those on the surface suddenly accept him. The sight of any Drow coming near a village or stronghold is about the same as a known serial axe-murderer showing up on the main road. Everyone wants to kill the dark elf on sight because of the threat Drows represent in general.
It's a painful transition from the Underdark in multiple ways. Along with social reject and the danger of being seen, sunlight can be painful for dark elves as well. However, Drizzt focuses on acclimation and puts up with the pains. He knows he can't go back where he came from, there's only forward. However, Drizzt has one companion in his loneliness, his magical panther friend, Guenhwyfar.
There is some humor in his adjustment; Drizzt finds himself overwhelmed and beaten by an unsuspecting foe, a skunk. Along the way through forests and mountains the dark elf learns not to be immediately trusting of anyone he comes across, especially after almost being used by one group of monsters to wipe out a human farm. It's in these first experiences Drizzt decides that humans need far more protection than their own arms against the other beasts and creatures of the world. So, again, the dark elf reaches a major changing point in his life direction. It shapes his path going forward as a result.
Unfortunately, Drizzt early encounters with humans don't go well. They try to hunt him down with a bounty hunter. The dark elf's defeat of his enemies triggers the attention of other demonic enemies who slaughter the nearby humans and make it look like Drizzt was responsible. Drizzt swears vengeance when he discovers the deception, but now he also has to fend off more serious attempts to kill him as surviving humans send a ranger after the Drow.
The ranger party is quick to discover that Drizzt was not the culprit, but the Drow is busy killing off the demons that blamed him for massacre of the village he befriended. Further, giants get involved chasing the Drow as well. Now he has everybody hunting the dark elf and intelligently figures out it's time to leave once again. In the chase the ranger confirms Drizzt innocence and helps him with healing of wounds. But the giants and bounty hunters keep chasing.
At this point depression is becoming Drizzt worst enemy, making the dark elf feel dejected and worthless. However, the ranger is still watching out for the Drow, and makes sure an ally elf keeps an eye on Drizzt hiding out in caves, providing him resources without letting off its intentional help. He goes through a winter but survives, and then moves on. Unfortunately, Drizzt lands smack in the territory of an Orc King. In this debacle, Drizzt meets a blind ranger and saves him, with orcs and more giants chasing right behind.
The blind ranger befriends Drizzt and teaches him surface languages so he can communicate with other non-Drow races. The dark elf also learns the ways of being a ranger, with enough time to rest before the orcs and bounty hunter close in on their location again. In the battle that happens, the enemies are defeated and sent running, but Drizzt ranger friend dies as well. Drizzt dedicates himself to the ways of a ranger and fiends his deity in Mielliki, the Goddess of the Forest. He continues to travel north in the meantime, trying to connect but being chased off by dwarves and humans again and again.
Seven years pass and the bounty hunter tries again to track the Drow elf down. Drizzt meantime eventually makes his way to the Ten Towns of Icewind Dale, a community of rogues surrounded by snow and icy mountains. Drizzt is rejected from living in the towns themselves, but he is allowed to settle on the surrounding slopes near one of the dwarven clans. Drizzt starts developing a relationship with an adopted human daughter of a dwarf, Bruenor, but the dwarf doesn't like the idea. He tries to battle the dark elf, but gets injured and embarrassed in the process.
It's at this time that the bounty hunter appears in town, and tries to get the dwarves to help him catch Drizzt. The dwarf's daughter, Catti-brie defies her father's orders and tries to warn the dark elf. She gets caught by the bounty hunter which triggers Drizzt action to deal with the problem once and for all. The dark elf repeatedly defeats the bounty hunter, but the human is crazed on trying to kill Drizzt. It's in a final defeat, knocking the human's lights out that the issue finally ends.
For saving his daughter, Bruenor the dwarf tells Drizzt he can stay and has a home. Finally, the dark elf has what he's been looking for decades: a place to belong.
In Summary
The Dark Elf Trilogy provides a welcome background to Salvatore's hero. After listening to the Icewind Dale audiobooks, fans will definitely appreciate the Dark Elf Trilogy details, illuminating the dark elf's past and why he behaves the way he does.
After the his exceptional reading of The Icewind Dale Trilogy, Victor Bevine returns to provide his usual engaging narration to this trilogy as well. The two trilogies go hand in hand and most fans of the series definitely agree they make up the best of Salvatore's Dark Elf series.