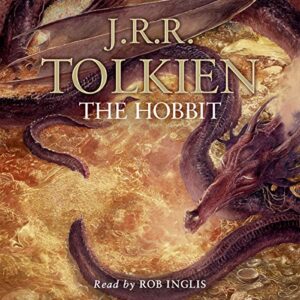 The Hobbit by J. R. R. Tolkien (Unabridged) Audiobook
Narrated by Rob Inglis
Running Time: 11 hrs and 2 mins
Overview
Written by J. R. R. Tolkien and originally published in 1923, The Hobbit is the seed from which the sprawling fantasy world of Middle Earth has blossomed. It has all the quintessential elements of an epic adventure: wizards and dragons, harrowing danger, a cross-country journey, close shaves with almost certain death, valiant warriors, villainous trolls and goblins, and, of course, an unlikely hero.
Though The Hobbit was originally intended as an adventure story for Tolkien's children, it has far surpassed the realm of children's literature and has become not only a literary classic but also one of the favorite fantasy stories of our time.

Plot Summary
The Hobbit audiobook introduces us to Bilbo Baggins, a respectable hobbit living a respectable life in a respectable home with no desire for adventure, thank you very much. Hobbits are small creatures with large feet and even larger appetites, and they pride themselves on living ordinary lives free of risk, excitement, or peril of any sort.
Alas, poor Bilbo is not destined to remain respectable–we wouldn't have much of a story if he did–and with the arrival of Gandalf the wizard and thirteen uncouth dwarves, he is swept up into a whirlwind journey across Middle Earth to reclaim the dwarves' lost homeland from the clutches of the deadly dragon Smaug.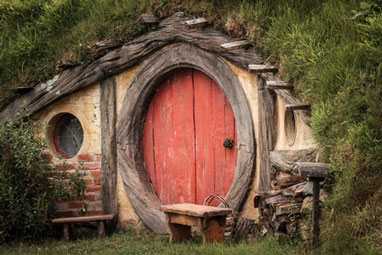 Thorin Oakenshield is a deposed king and the leader of the band of dwarves. He has been driven out of his ancestral home by the cruel and greedy Smaug, who devastated the dwarves' stronghold and claimed their mountain for himself.While the dragon revels in halls filled with the riches of an entire kingdom, Thorin and his kinsmen are forced to wander aimlessly through Middle Earth, biding their time and trying to build up a large enough force to retake the mountain.
Ultimately, their party amounts to Thorin, twelve of his dwarf brethren, the wise wizard Gandalf the Grey, and, of course, a very bewildered Bilbo Baggins. Against nearly impossible odds, they set out from Bilbo's home in The Shire hoping to cross Middle Earth, defeat Smaug, and return Thorin's kingdom to its former glory.
Along the way, Bilbo and company journey through fantastic and dangerous places like Mirkwood, the forest where even the streams are evil, and Rivendell, the breathtaking home of the elf lord Elrond on the edge of the Misty Mountains. They face nearly constant menace during their journey, including a run-in with a trio of carnivorous trolls, an ambush by a horde of goblins, and a perilous journey down river.
Throughout these hardships, Bilbo must dig deep within himself to find the wherewithal to rescue not only himself but also his newfound friends. As the story progresses, Bilbo learns to rely on his own wit and cunning as he discovers the wonders of the world beyond his front door.
The World of Middle Earth
The Hobbit and its sequels are set in the fictional realm of Middle Earth. Middle Earth is home to a myriad of fantastic creatures, from dwarves and hobbits to elves and men. Goblins prowl the plains atop giant wolf-like creatures called Wargs, and eagles the size of horses rule the skies.
Vast mountain ranges crawl with hidden dangers, dense forests are home to friends and foes alike, and bustling towns and cities warily conduct their business in the shadow of Smaug's desolation. Richly composed and filled with a dizzying amount of detail, Tolkien's Middle Earth sets the stage both for the epic journey of The Hobbit and the sweeping saga of its three-part sequel, The Lord of the Rings.
Characters and Creatures
Middle Earth is populated by dozens of colorful characters from every species imaginable. Each character is crafted with a special care and attention to detail worthy of one of the greatest authors of the 20th century. As the story progresses, we become personally invested in the lives and fates of the characters, both the good and the bad. We learn their histories, mourn their losses, celebrate their victories, and witness them grow and develop over the course of their treacherous journey.
In addition to hobbits and dwarves, we meet Gandalf, a powerful wizard whose vast knowledge, preternatural wisdom, and quick thinking are great assets to the dwarves–so long as Gandalf is actually on hand to help and not out attending to other wizardly business.
We also meet the inhabitants of Lake-Town, a trading village on the outskirts of Smaug's domain. Their relative proximity to the mountain makes them periodically victim to raids by Smaug, and so the citizens are rightfully wary of Thorin's plan to challenge him. Not all the men of Lake-Town are fearful, however, and several brave warriors emerge to defend their town against Smaug's catastrophic attacks.
One of the most unique characters in The Hobbit is Gollum, a pale, vile wretch of a creature who lives deep within the bowels of the Misty Mountains. Isolated, possessive, and thoroughly revolting, Gollum challenges Bilbo to a high-stakes battle of wits in which the two attempt to outsmart each other with increasingly difficult riddles. While in Gollum's lair, Bilbo stumbles upon a small, golden ring with the extraordinary ability to render its wearer invisible. Although both Gollum and the ring are minor players in The Hobbit, they become a pivotal part of The Lord of the Rings trilogy.
Is the Audiobook Right for Me?
The Hobbit is a must-have for anyone with an interest in fantasy fiction. Tolkien has become one of the staples of the genre, and The Hobbit was his debut work. The Hobbit audiobook keeps its readers on their toes with back-to-back action and enlightening dialogue; it manages the delicate balance of being fast-paced without skimping on narrative details that add immeasurable depth to the story.
Its themes, though told through hobbits and dwarves, are distinctly human: loyalty to one's family and homeland, desire for vengeance, misguided greed, self-sacrifice and courage, fierce friendships, and bitter enmities. Bilbo's journey from a sheltered hobbit living a cozy life into a resourceful adventurer who conquers his fears is one many generations of readers have embraced wholeheartedly.
As an audiobook, you can bring the world of Middle Earth to life in a new and exciting way. Whether you're new to the genre or a veteran Tolkien fan, this audiobook is one you won't want to miss.