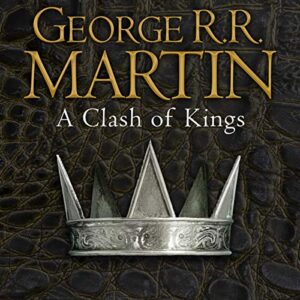 A Clash of Kings by George R. R. Martin (Unabridged) Audiobook
Narrated by Roy Dotrice
Running Time: 37 hrs and 12 mins
With intense action and exciting new points of view, George R.R. Martin returns to form with the second volume of his epic A Song of Ice and Fire series. Not every author can overcome the inevitable "sequelitis," but in A Clash of Kings, the characters are just as sharp, funny and fierce as they were in the first volume, and the stakes are higher than ever.
War is brewing, you see, and all your favorite characters are caught in the thick of it. Alliances are formed, friendships are broken and bonds are tested in ways that have long-standing consequences. In the game of thrones, you win or you die… and George R.R. Martin has already proven that he isn't afraid to deliver on that promise.
The Basics
Battle lines have been drawn in Westeros, and with multiple territories declaring themselves for the throne, what the singers are calling "The War of the Five Kings" has officially begun. Too bad there's even more trouble brewing as the Night's Watch battle frozen monsters in the north and a rogue princess raises dragons in the east…
With the return of the Starks, Lannisters and Targaryens and the addition of a Greyjoy and a Seaworth, Martin picks up the action right where he left off. Here are some of the most important storylines in A Clash of Kings.
Catelyn Stark: Still grieving for her husband, Catelyn struggles to hold her family together even as her eldest son, Robb, fights battle after battle as the newly-independent King in the North. She'd do anything to protect her children… even betray them.
Theon Greyjoy: Originally one of Robb Stark's closest friends, Theon's loyalty is tested when he returns to his homeland and discovers that his father has also entered the war to become King. Does he have what it takes to betray his kin? Or is a crown of his own too much temptation to resist?
Tyrion Lannister: He may have survived the field, but Tyrion's biggest enemy turns out to be within the court itself: His poisonous sister Cersei. As another, greater battle looms on the horizon, one that threatens to dethrone his family and destroy the entire city, Tyrion must choose between preparing the troops and watching his back… but if he chooses wrong, the consequences will be deadly.
Sansa Stark: Twelve-year-old Sansa is held captive at court, the prize and plaything of the newly-crowned boy king. She'd do anything to escape his cruelties, but what if the only one she can trust is the bitter, horribly burned knight known as The Hound… the king's bodyguard?
Arya Stark: Having cut her hair and fled the city of her father's execution, ten-year-old Arya now lives as a boy under different names and with a sword at her side. Her only goal is to make it north and go home, but little does she realize that her new traveling companions include a king's bastard and a mysterious assassin who can change his face at will…
Daenerys "Dany" Targaryen: Dany is a queen now, a ruler of her own making, but her mettle is immediately tested when she and her followers are forced to struggle across a desert known as the Red Waste. A hidden city offers refuge, but what price will the Mother of Dragons have to pay for sanctuary?
The Audiobook
Roy Dotrice is back, the famed British narrator who delighted listeners during the first book with literally dozens of unique voices and accents. He rises to even greater heights in A Clash of Kings, depicting battles, dragons and sword fights with enthusiasm and energy. He has a knack for building the suspense of a scene without letting his tone betray when a surprise is coming, which is perfect for George R.R. Martin, master of plot twists. He also has a wry sense of humor that's able to keep up with Martin's rapid-fire dialogue and clever introspection. You'll howl during Arya's exploits ("What kind of lord's daughter are you?") and the banter between quick-witted Tyrion and his sarcastic mercenary:
"Have you killed any [recruits]?"

"No one we could have used."

"And if one of them kills you?"

"He'll be one you'll want to hire."
Roy handles each character with expert precision, even the ones outside his usual range, like children and girls. By returning to the second book and also narrating the third, fourth, and fifth, he has become the voice of Westeros and everyone who lives within it.
The full A Clash of Kings audiobook clocks in at 37 hours and 12 minutes, slightly more than its predecessor, so still a listening experience you'll need to divide into parts. Just don't listen on your way to work or you'll find yourself sitting in your car and muttering one more chapter, one more chapter…
The Rundown
It takes a talented author to juggle almost a dozen different characters across hundreds and thousands of miles, but if his skills were ever in doubt, Martin blasts them thoroughly by crafting a sequel that proves he's still got it. Forget the idea of a sophomore slump: A Clash of Kings is even better than the first book. Not only does it stand alone as an intense tale of civil war and high fantasy, but it also serves an excellent bridge into the third book, A Storm of Swords, which sees Westeros gripped by even greater turmoil.
In short, A Clash of Kings is a lengthy book and an even lengthier listen, but once you've fallen back into this world of mayhem and magic you'll wonder why you ever left. George R.R. Martin has done it again, and the only thing better than listening to A Clash of Kings is knowing that you have three more books to enjoy afterwards.
After all, winter is still coming.