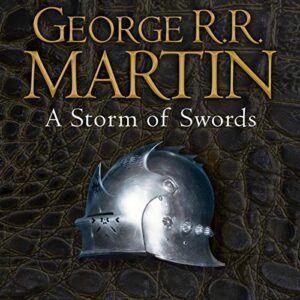 A Storm of Swords by George R. R. Martin (Unabridged) Audiobook
Narrated by Roy Dotrice
Running Time: 47 hrs and 40 mins
It's the War of the Five Kings, and one king has already been murdered. By the end of this book, so will three more.
So begins the A Storm of Swords audiobook the third installment of George R.R. Martin's epic fantasy series A Song of Ice and Fire. As the midway point in a seven-book series, you might expect the pace to lag or the storylines to falter, but Martin defies all expectations by spinning a tale that's just as fresh and exciting as the first page of the first volume. New friends are made; old secrets are out. Fresh faces meet old favorites as edge-of-your-seat action propels the plot into wilder waters than ever before. If you think you know where the story is going, just remember: You have no idea at all.
Hold onto your seats, kids, because there's no way you're prepared for what will happen next in A Song of Ice and Fire.
If it helps, the characters don't know what they're in for, either.

The Basics
Bringing back the Starks, Lannisters and our sole remaining Targaryen, George R.R. Martin also shakes things up by adding several new viewpoints not seen in his previous books. Jaime Lannister, for example, originally a sidenote in his brother's story, now has his own storyline in his own point of view. Samwell Tarly narrates the north while Jon Snow is otherwise occupied.
In terms of overarching plot, here are the people to watch in A Storm of Swords: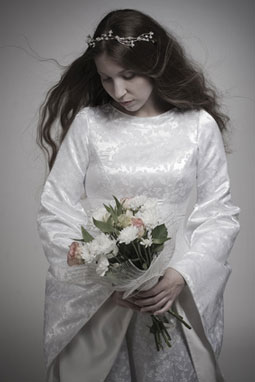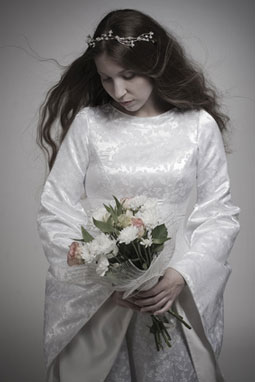 Catelyn Stark: To secure the safety of her daughters, Catelyn had to betray her son. But her actions have far-reaching consequences as Robb's army begins to desert and his own lords question his leadership. To make matters worse, Robb himself betrays a marriage pact when he falls in love with someone else, and the repercussions of following his heart will reverberate through all seven kingdoms…
Jaime Lannister: Finally released from imprisonment, Jaime intends to make his way back home under the watchful eye of Brienne, a formidable female knight. But when the duo are caught by a gang of roaming, bloodthirsty sellswords, they'll lose more than just their direction. Jaime will quite literally never be the same.
Sansa Stark: Still a captive at court, thirteen-year-old Sansa has survived betrayals, politics and public riots, but it turns out that her biggest challenge will come not from violence, but vows. Marriage vows. Sansa Stark is a Stark no longer.
Tyrion Lannister: Disfigured and disgraced, Tyrion has lost all the power he'd so carefully cultivated at court. His one comfort is Shae, the prostitute he's hiding from the eyes of his lordly father, but even her sweet presence can't save him from the jaws of his own family. War has come to claim its due, and the Lannisters will suffer heavy losses by the time it sweeps through the city, both from their enemies and from themselves.
Arya Stark: Arry. Weasel. Nan. Arya continues her journey home, shedding identities and building a body count along the way, but how much of Winterfull is still in her heart? Can she reconcile the blood on her hands with the noble lady she was born to be, or will the whispers of darkness prove too much to resist?
Jon Snow: Captured by the wildlings beyond the Wall, Jon is forced to disavow the Night's Watch to survive. But his deception is tested when the wildlings reveal their plan to attack the Wall and kill everyone defending it. The lines blur even further when he finds himself captivated by one female wildling in particular… so which side will command his loyalty in the end?
Daenerys "Dany" Targaryen: In need of an army, Dany travels through the Free Cities and makes a startling discovery: They aren't really free at all, instead built and run by slave labor. Westeros is waiting, and her dragons grow stronger every day, but can Dany turn her back on the kind of cruelty she fought so hard against as Khal Drogo's khalessi? How far is she willing to go to break the shackles of the east when the west is where her kingdom truly lies?
The Audiobook
Roy Dotrice is back again, the faithful narrator who brought both A Game of Thrones and A Clash of Kings so vividly to life. He continues his magic with A Storm of Swords, weaving between worlds with ease and giving every character a unique, distinctive voice befitting both their rank and location. Arya Stark does not sound like Dany Targaryen. The royals of King's Landing don't speak with the same inflection as the wine sellers on the outskirts of Pentos.
Roy also brings to the table his endurance, something that's critical for such a massive and well-long series. Despite the sheer length of A Storm of Swords, Roy never loses steam, reading each page with passion and enthusiasm.
Imagine this paragraph read aloud:
They are children, Sansa thought. They are silly little girls, even Elinor. They've never seen a battle, they've never seen a man die, they know nothing. Their dreams were full of songs and stories, the way hers had been before Joffrey cut her father's head off. Sansa pitied them. Sansa envied them.
What did your inner voice sound like? If you've listened to the other audiobooks, it sounded like Roy. This is how you know he's a winner.
The full A Storm of Swords audiobook clocks in at 47 hours and 40 minutes. It's one of the longest, densest books in the series, but have no fear: Every minute is worth it.
In Conclusion
Make sure you have the fourth book handy, because when you finish this one you'll immediately need the rest. Far from being a mid-way disappointment, A Storm of Swords is widely regarded as the best book in the series, and this is despite the multiple deaths, weddings and treasons that make its story one of the most turbulent of not just George R.R. Martin's world, but modern literature as a whole.
In the game of thrones, you win or you die. There is no middle ground.