A Feast for Crows: by George R. R. Martin (Unabridged) Audiobook
Narrated by Roy Dotrice
Running Time: 33 hrs and 56 mins
The war is over, but the trouble is just beginning.
Most characters in A Feast for Crows have accepted their fate as either conquering heroes or defeated nations… in public, at least. While few are willing to threaten the tenuous peace that has settled over the kingdom, they conspire together behind closed doors to solidify their power or take their vengeance, and the results of all this scheming might prove to be worse than the actual war.
In the fourth volume of George R.R. Martin's A Song of Ice and Fire series, new alliances are formed, old ones are broken forever and blood means everything and yet nothing at all. This is what it means to play the game of thrones.

The Basics
A Feast for Crows departs from the other books in terms of chronology and points of view. While bringing back a few familiar faces, Martin mostly focuses on the new, setting up stories that he will later explore in the fifth book, A Dance with Dragons. Several fan favorites don't appear in this volume at all, like Tyrion Lannister and Daenerys Targaryen. You'll need to keep reading to figure out where they turn up!
That said, for the fourth book, here's what you'll need to know.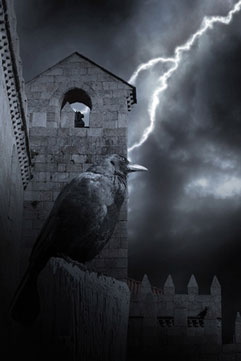 Cersei Lannister: With her eight-year-old son on the throne, Cersei commands as Queen Regent with the power she's always longed for. So why is everything falling to pieces around her? As her paranoia grows and the shadows fill with fools, flatterers and traitors, she makes a series of choices that leave her in grave danger, all the while haunted by a prophecy that may be the undoing of it all.
Jaime Lannister: Finally back in King's Landing, Jaime's homecoming isn't what he expected, not with his father dead, his brother exiled and his sister turning into someone he doesn't recognize. As he struggles to cope with his disfigurement and re-establish himself in court, Jaime realizes that living in the aftermath of war can sometimes be harder than fighting one.
Sansa Stark: Sansa has given up everything to flee her captors and her loveless marriage, but living in secret as the bastard daughter of Petyr Baelish comes with its own set of difficulties. As Petyr plots to control the riverlands, Sansa is once again thrust into a game of deception and survival… but what is her "father's" true goal, and why does he keep looking at her with such hunger?
Brienne of Tarth: With no one left to fight for in the north, Brienne accepts a mission to find and rescue Sansa Stark. Her journey takes her throughout the Seven Kingdoms and even attracts a fellow traveler or two… but then she runs into a shocking individual, a malevolent figure thought long dead but then resurrected with black magic. And they want revenge.
Samwell Tarly: Sent away from the Wall to train as a maester, Sam finds trouble in the form of treacherous allies, long-ago prophecies and the unexpected temptation of Gilly. As a member of the Night's Watch, he's vowed to take no lovers and father no children, but can he keep those promises when he's so far from the place he swore them?
Victarion Greyjoy: In the power vacuum left by his brother's death, Victarion is forced into a tough position when his other, crueler brothers both vie for the throne left behind. The Iron Islands may be an afterthought to the rest of the Seven Kingdoms, but to those who live there, the battles are no less bloody and devastating.
Arianne Martell: Infuriated by her family's alliance with the Lannisters, Arianne suspects a plot on her birthright as the eldest daughter and heir of the Dorne. She decides to plan a coup with her closest friends and retainers, but it turns out that one of them can't be trusted… and that her father may have had bigger plans for the family after all, one that has to do with a secret alliance made to a different house than the Lannisters.
The Audiobook
Roy Dotrice once again takes the reigns for A Feast of Crows, but not without difficulty. The faithful narrator of the first three books, he was unavailable to record when the book was originally released in 2005, so publishers brought brought in another voice actor, John Lee, and released his version instead.
The fan outcry was immediate: Roy was a beloved narrator and talented storyteller, earning several awards for his work and even entering the Guinness Book of World Records for the 224 unique individual voices he used in A Game of Thrones. To many listeners, he was the voice of Westeros, and no other narrator would do.
Eventually, the publishers relented, and Roy was brought back into the studio in 2011 to re-record the book. You may find, however, that his voices and inflections have slightly changed, the result of the six-year gap between readings. Instead of letting these differences throw you, think of them as a sign of the characters evolving: Sansa Stark is growing up, no longer a little girl but a young woman past puberty. Jaime Lannister, far from the arrogant murderer he used to be, now speaks more humbly and with deference to his physical and psychological damage. No one can live without changing, so let Roy's own changes be a reflection of the story, not of himself.
The full A Feast for Crows audiobook runs 33 hours and 56 minutes.
The Rundown
Despite the unusual split and unexpected changes in narration, A Feast for Crows is still a great book and a strong addition to the series as a whole. You might miss the characters who don't appear, but they're simply waiting for you in the next volume, A Dance with Dragons. Together the duo serve as an excellent stepping stone into the final stretch of this epic journey, so onward you go!